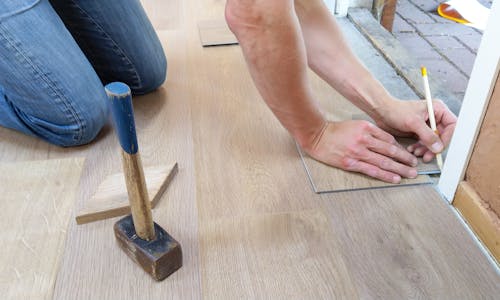 Our guest blogger today is Matt Lee.
A home renovation loan provides homeowners with the funds necessary to make improvements to their houses. These loans often are obtained in the form of a mortgage with a built-in fixer-upper fund or personal loans from a lender.
In both cases, it may be necessary to keep receipts and ledgers to prove these funds were used for materials or given to a contractor for a variety of renovating services. 
The particular agreements and characteristics of your renovation loan will be determined by what type of home renovation loan you receive. The exact requirements and terms of your loan can be explored with the help of your lender.
However, before you contact a lender you may be asking yourself if such a loan is necessary?  You're in luck, below several signs and tips associated with the necessity of a home renovation loan are discussed and explored. 
1. Reduce Long Term Costs
One essential reason to take out a home renovation loan is if you are certain the home renovations will reduce the long-term costs associated with your home.
Do you have a leaking roof? Or, are you looking to install more energy-efficient windows? Each of these two renovation projects can drastically decrease future costs associated with your home. In this case, a home renovation loan may be a great idea for you as you look to avoid major roof repairs or decrease your energy bill. 
2. Make Your Home Safer
Certain home renovations can also make your home safer. Electrical circuits and lighting updates are one type of renovation that fall into this category.
A renovation loan may be necessary if you need to have extensive circuit work done to your home. This loan may prevent a fire from starting in your home, or worse someone getting electrocuted by a faulty wire or outlet. 
Electrical renovations may also involve strengthening the resistance on your baseboard heating that runs near your engineered hardwood flooring. In any case, if a home renovation loan will prevent electrical damage from occurring in your home and make your home safer it is best to proceed with the loan.
3. The Overall Value of Your Home
A home renovation loan may also be a great choice if the home renovations it will make possible will increase the overall value of your home.
Attic insulation, impact resistant shingles, and bathroom, kitchen, or outdoor renovations are examples of renovation projects that may drastically increase the value of your home. If you are thinking about these ideas or similar projects then you should take out a renovation loan. This loan may pay for itself and more when you decide to sell your home years down the line. 
4. The Cost of Your Renovation Ideas
When considering a home renovation loan, it is also important to look at how much your home renovation ideas will cost. Certain renovation ideas, such as updating your garage door trim will be way less expensive than say adding an entirely new room to your home.
If you can only secure a loan that is less than the amount needed then it may not be a great idea to pursue such renovations. Overall, home renovations are going to be an immediate investment, but it is important, to be honest with yourself about how much return these renovations will bring towards the value of your home.
It's also important to consider the terms of your loan. At what interest rate are you borrowing and is this rate progressive enough to allow you to come out on top? 
Speak With Your Lender
If you've decided that a home renovation loan is necessary for you and the future of your home, then it's important you compare different lenders. Once you decide on a lender, sit down, and have an honest talk about your financial goals and reasons for borrowing.
Being honest with your lender is a great way for both of you to achieve a positive experience that results in benefits for both parties. In summary, if home renovations will make your home safer, more valuable, or more cost-effective in the future then a home renovation loan may be perfect for you!
What if You Decide Renovating Your Home Won't Pay Off?
After exploring your options you might decide that renovating your home is too costly and hard. Instead, it might be time for you to sell the house that isn't working for you anymore and find one that does.  Our team at Eng Garcia Properties can help you decide what the best path for you might be.  Give us a call today!
Matt Lee is the owner of the Innovative Building Materials blog and a content writer for the building materials industry. He is focused on helping fellow homeowners, contractors, and architects discover materials and methods of construction that save money, improve energy efficiency, and increase property value.