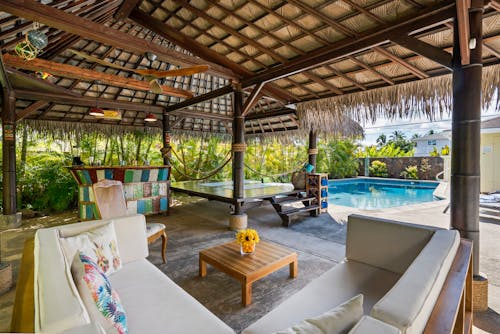 Closing your eyes and listening carefully, you can almost hear the cheerful chatter of your guests amid the sweet tunes of Summer, as they spread out across your backyard. The hub of all this playful activity is your patio area. Creating an outdoor living space can make all the difference between a dazzling day and a dud.
This scenario doesn't have to be a fantasy. With the right design, your outdoor space can feel like a resort-style getaway, right there in your own backyard. Upping your backyard entertainment game comes down to a combination of the perfect seating, dining, and décor items. Here are some helpful–and easy–pointers on how to design the ideal outdoor living space that will have you hosting gatherings in style.
Free-range Furniture
Party games are one thing, but if finding a place to sit feels like a game of musical chairs, you have just failed your guests. Nothing is worse than a plate of goodies in one hand, a drink in the other without a place to settle in and get comfortable. Having enough seating creates choices rather than challenges for guests gathering in your outdoor living space.
Consider adding an outdoor dining space for entertaining family and friends. Outdoor living room furniture provides a sophisticated seating area with a more relaxed tone than dining room seating. You can move the pieces around to suit the mood of your gathering and maximize seating options.
Statement pieces like hammocks, swings, or daybeds create a refined ambiance that will take your luxury outdoor space to the next level.
Fabulous Fire Features
The options for a modern fire feature in your yard go way beyond a stand-alone firepit. To accent your perfect luxury outdoor space, you have your choice of firepit, fireplace, wood-burning, or gas made from a variety of materials. A
fire feature can be the centerpiece of your outdoor seating area or serve as multiple side pieces throughout the space. Depending on the direction you go, prices can range anywhere from a few hundred dollars to thousands.
Outdoor Cook'n
While roasting marshmallows and hotdogs above your fire feature is a viable option, an outdoor kitchen will blow away your next group of party guests as you assemble full-blown meals in the open air. From simple built-in grill setups to full kitchen replicas, a luxury outdoor kitchen allows you to play host without stepping away to prepare meals inside.
With your garden nearby, it's a quick trip from harvest to the dinner plate. Add a bar to your outdoor kitchen to add even greater sophistication and convenience.
Details and Décor
The smallest details go a long way when designing the perfect luxury outdoor space. Lighting can make or break an outdoor space used in the evenings. Not only do you want to see what you are preparing in that outdoor kitchen of yours, but your guests must not only be able to see what they are eating but where they are stepping.
Too much light will make the environment feel sterile and uncomfortable, while too little light feels dank and disconnected.  Use LED lights which are inexpensive with the added benefit of being environmentally friendly. Using dimmable fixtures will help you achieve just the right level of lighting for the time of day.
Décor features such as oversized planters, enormous umbrellas, and statement pillows tie in the more significant outdoor elements to create a cohesive theme throughout the space.
Implementing design components like seating spaces, dining amenities, and staple décor pieces will have your backyard feeling like a luxurious resort to relax or entertain in with family and friends. If you are looking for a property with a back yard to make this ideal entertainment setting a reality for you, contact one of our real estate professionals here at Eng Garcia. We are here to help you get what you are dreaming of.