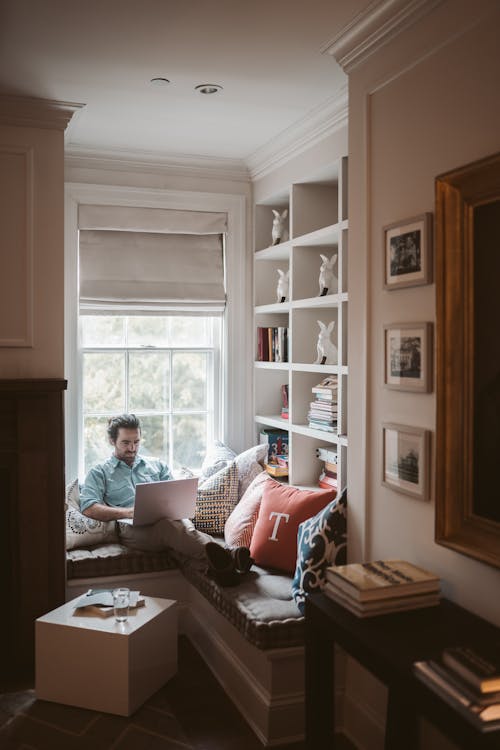 Our guest blogger today is Amber Higgins
Working from home is the new norm–whether you like it or not.  If you have a crummy old desk in a dark room for an office, it might be time to renovate your home office.
Stanford economist Nicholas Bloom notes that 42% of Americans are now working from home full-time, and they now account for 2/3 of the country's economic activity. This unprecedented shift to the work-from-home model, which is an offshoot of the pandemic shutting down the U.S., is expected to persist.
In fact, the Survey of Business Uncertainty estimates that the share of working days spent at home will rise from a mere 5% pre-pandemic to around 20% post-pandemic, as various businesses are laying the groundwork for more expansive work-from-home arrangements.
One of the reasons employers are more open to offering work-from-home arrangements (aside from the fact that the pandemic has necessitated it) is the increase in productivity attributed to this setup. Forbes reports a 47% increase in productivity among employees working from home, mainly because they are getting comfortable with this work paradigm and are now able to separate their professional and personal lives.
And according to a collection of "30 Tips for Professionals Working from Home During the COVID-19 Pandemic", a good way to delineate the two is to have a designated workplace or home office. This will give you some privacy and minimize distractions. In turn, it will be easier for you to get in a zone, and be more productive.
So, it's time to dust that home office off, give it a thorough clean, and have it renovated so that you can be at your most productive best when it's time to work. And as you plan your home office renovation, consider the design tips below to turn your workplace into a place you'd actually want to work in.
Apply ergonomics
Ergonomics is all about designing an environment that will allow you to work as efficiently (and as safely) as possible.
Following its principles will make your workplace at home most conducive for work. So, make sure that your desk is just the right height to keep your computer screen level to your eye (or slightly below it). Invest in an ergonomic chair, too, which you'll find in office furniture shops like Cubes2U, the Furniture House, and Laser Line.
And, ideally, your storage options must be at arm's length for easy access. In this way, you'll be comfortable throughout your workday.
Leverage natural light
The Smarter Home Office author Linda Varone recommends placing your desk close to windows and parallel to the panes whenever possible. In doing so, you'll be able to use natural light as your main light source and soak in all its benefits, like boosting mood and increasing happiness. And, of course, happy people tend to be more productive at work.
Personalize it
It's your workplace, so make it a reflection of your personality. In short, personalize it! You can use the tips given in the previous post on "Ways to Personalize Your New Home".
Repaint the interior walls, or incorporate patterns and textiles. Hang or display photographs and personal collections (but make sure they don't clutter your actual workspace). Doing this establishes a comfort level that will allow you to be more productive.
Put a clock
As explained in an article on home office design tips by The Balance, it can be easy to lose track of time when working from home, and this can cause you to take fewer breaks and get overworked in the process.
A way to counter this is by putting an actual clock in your work area so you can keep better track of your time and be reminded of the need to take regular breaks. These will keep you fresh and productive throughout the day.
Add some greens
Another way to boost your mood is by having plants in your area. Greenery can also make you happier, and even alleviate stress. So, place a plant or tree in your workplace.
The good news is that there are lots of plants that don't need much tending, including snake plants, aloe vera, and succulents. With these green stress-busters in your home office, you'll tend to worry less and focus more on work.
Lastly, look to find some design inspirations online by browsing sites like Pinterest. Better yet, check in regularly here on Eng Garcia Properties LLC to get lots of home renovation ideas. Good luck!
Written by: Amber Higgins