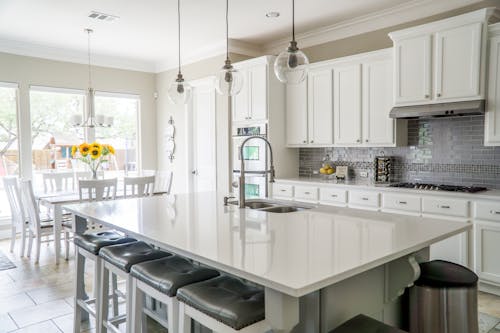 The kitchen is the heart of your home. It's where people go to decompress at the end of the day as they enjoy a yummy meal, a glass of wine, and enjoy the fellowship of friends and family.
Since this room is so important, buyers immediately look at it first when they're searching for a house. Your kitchen should be in top shape before you ever put it on the market. If you follow these three kitchen staging tips to help sell your home you'll impress potential buyers.
Create a Pantry In Your Kitchen
Storage is a high priority on most buyers' kitchen wish lists.
Every kitchen should have a dedicated pantry space. Most people don't want to leave their foodstuffs on the counter when guests come over.
So, consider building a pantry to give buyers what they want. Although this can be a substantial home improvement project, you'll likely see a considerable return on investment. Stand-alone pantries range from $300-$600. Expect to pay $3,000 or more for a built-in pantry that matches your cabinets.
It's essential to ensure it's stocked and organized so that buyers can envision how it will work for them.
Look into the ways you can store and organize everything—especially your spices—as creating a space that presents well can positively impact the sale.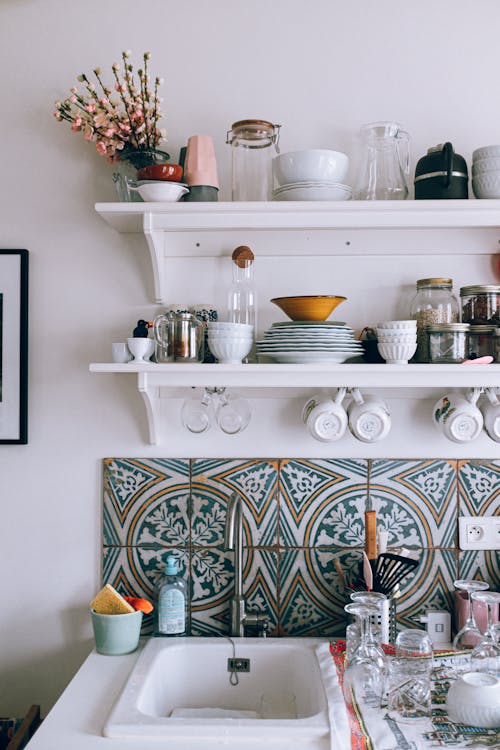 Install Shelves For Added Interest
Families across the country are cooking more than ever right now. The adventure can be fun, as long as it's done correctly. It's easy to get overwhelmed if pots and pans are scattered everywhere.
Consider installing extra shelves where you can tuck things away. Not only will more racks improve storage, but they're also an added design element in the room. Expect to pay $20 to $50 per shelf.  Sometimes just one or two shelves will create the look and space you need.
Let buyers know that you have their needs in mind and you want to make their lives easier by installing shelving units.
Cheap & Easy: Slap On a Fresh Coat of Paint
Kitchens see their fair share of wear and tear. Sometimes, things get out of control, and pasta sauce ends up on the ceiling!
The best (and least expensive)way to freshen up the area is with a fresh coat of paint. Although markings and stains show that a kitchen has been lived in, most people want to move in with as few projects as possible.
Remember to be selective when choosing a color. Pick a shade that appeals to the masses, such as white, grey, yellow, or green.  These colors warm-up a space and will make your kitchen shine. Anything too wild might scare off protentional buyers. A good quality one coat paint kitchen paint will be about $25-35 a gallon.
The right people will appreciate that you put in the extra effort and fresh paint more than pays for itself.  It's one of the best investments you can make in the kitchen or in your entire home.
Small Things Matter
After you have followed these three tips, consider adding fresh flowers and cheery pictures on the walls. People make memories in their kitchen and want to see a space that reminds them of good times.
Don't forget any offensive odors.  Get rid of anything in your kitchen that could turn someone off. Instead, purchase a plug-in device or diffuser that smells of something fresh and light like tropical fruit or warm like vanilla.
If you're getting ready to sell your home, let a realtor with Eng Garcia help you get your kitchen–and the rest of your home–in tip-top shape to sell at the highest price possible in the fastest time possible.